Come check out the launch of 2 brand new mini-comics from the father & son team of Jack Tremblay & Rick Trembles! Canadian golden age cartoonist Tremblay & Canadian post-underground cartoonist Trembles will be sharing a table at this year's Expozine, Saturday & Sunday, November 15 & 16 @ Eglise St-Enfant-Jésus, 5035, Saint Dominique, Montreal.
CANUXPLOITATION.COM PRESENTS: "RICK TREMBLES' MINI MOTION PICTURE PURGATORY"
Rick Trembles has developed a worldwide reputation publishing & distributing his own alternative comics since the late seventies & has been featured in anthologies such as Robert Crumb's Weirdo Magazine & Russ Kick's The Graphic Canon. FAB Press has published two critically acclaimed volumes of his Motion Picture Purgatory comic-strip film reviews culled from the pages of The Montreal Mirror since 1998. His artwork has been exhibited at numerous art galleries, his short animated films have won awards & toured festivals worldwide, & he's been singing & playing guitar for his post-punk band The American Devices since 1980.
Trembles' brand new 28-page mini-comic, MINI MOTION PICTURE PURGATORY, created especially for this event, is a collection of illustrated Canadian B-movie reviews that ran at Canuxploitation.com from 2012 to 2013. Trembles will be present at the launch & available for signings all day Saturday & Sunday.
$5 POSTAGE NOT INCLUDED (FOR MAIL ORDER CONTACT RICK TREMBLES THROUGH THIS WEBSITE).
"Genius" -The Guardian
"A famous free thinker" -L.A. Times
"Even more twisted & weird than me" -Robert Crumb, The Comics Journal
Since 1999, Canuxploitation.com has been exploring & documenting the murky world of Canadian "exploitation" cinema. With an emphasis on the past, their dedicated review team digs into dusty VHS deletion bins, combs through dollar store DVD racks & braves the wasteland of late night TV to investigate & reclaim Canada's once forgotten B-movie tradition with style & humour.
INSIDE: CANUCKIAN NUDIST COLONIES! CANADA'S FIRST ZOMBIE AND GORE FLICK! KAREN BLACK ON HEROIN! CRONENBERGIAN CAR CULTURE! MUSCLE-ROCKER THOR! VANITY'S BUTT! NFB KIDDY-PORN! BIG 80'S HAIR! 3D MOLLY RINGWALD! MAPLE SYRUP SMUT! FLQ-INSPIRED GARBAGE TRUCKS! RAPIST PRIESTS! BURROUGHSIAN GLAM-ROCK GONE PUNK!
Pictured below: Front cover featuring images of mostly bygone Montreal movie theater marquees. Top to bottom; The Seville, MTL's own grindhouse of yesteryear The Cristal, Cinema Five, & the only surviving one left, Plateau porn palace Cinema L'Amour.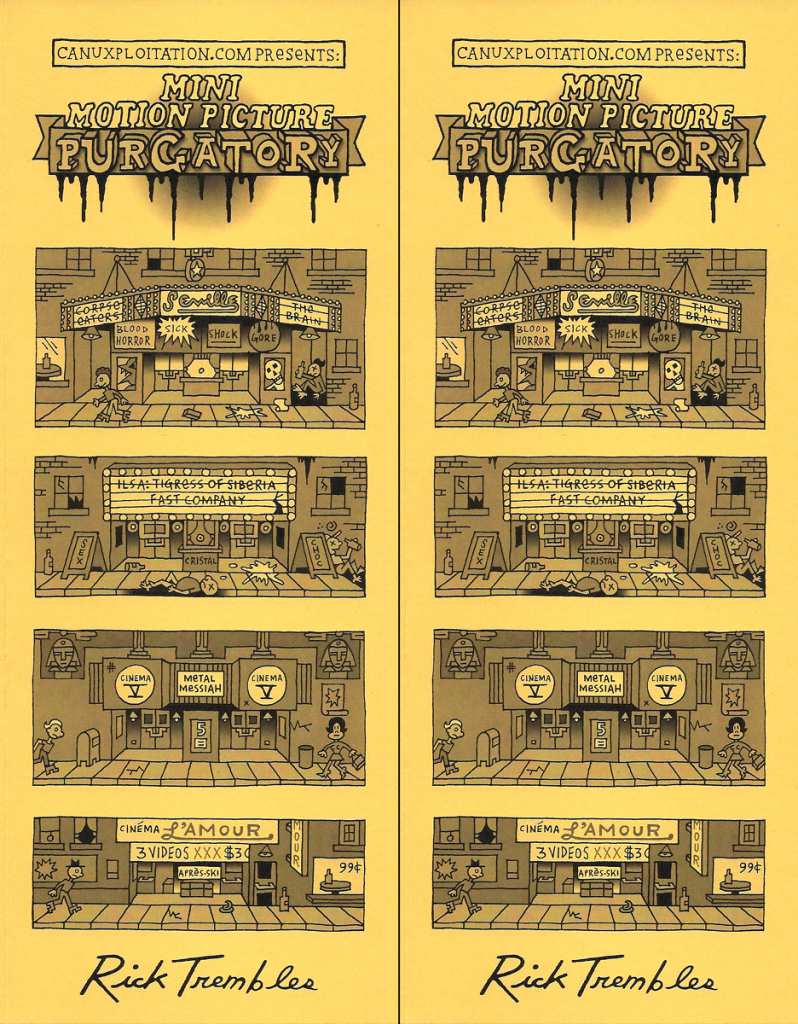 MOVIES REVIEWED:
1) MONDO NUDE (1979)
2) THE CORPSE EATERS (1974)
3) THE PYX (1974)
4) ILSA: TIGRESS OF SIBERIA (1977)
5) FAST COMPANY (1979)
6) PIN (1988)
7) ROCK 'N' ROLL NIGHTMARE (1986)
8) TANYA'S ISLAND (1980)
9) NOT A LOVE STORY (1981)
10) BIG MEAT EATER (1982)
11) BEDROOM EYES (1984)
12) THE BRAIN (1988)
13) HAVE FIGURE, WILL TRAVEL (1963)
14) SPACEHUNTER (1983)
15) YETI: THE GIANT OF THE 20TH CENTURY (1977)
16) APRÈS-SKI (1971)
17) RABID (1977)
18) BELLS (1982)
19) VISITING HOURS (1982)
20) DIARY OF A SINNER (1974)
21) EAST END HUSTLE (1976)
22) A WHISPER TO A SCREAM (1989)
23) METAL MESSIAH (1978)
Expozine Website HERE
Below: Sample panel from review of THE BRAIN (1988).
ALSO!
"ESTHETIC COMICS: IN OUR BACKYARD" BY JACK TREMBLAY
Jack Tremblay is a Canadian Golden Age cartoonist who worked as a teen in Montreal during World War Two for WOW COMICS, (which he did Crash Carson for) and COMMANDO COMICS (which he did Wings Over the Atlantic for). After drawing comics he became a successful writer & commercial artist, publishing children's books on Canadiana, illustrating for the likes of the Montreal Star's weekly supplement Weekend Magazine, & then a fine artist exhibited at numerous galleries. He was the recipient of the Doug Wright Canadian Cartoonists' Lifetime Achievement Award presented to him by renowned cartoonist Seth at TCAF (Toronto Comic Arts Festival) in 2014.
Tremblay's brand new full color 24-page mini-comic, ESTHETIC COMICS: IN OUR BACKYARD, created especially for this event, represents his first foray into drawing comic books since WW2; a playful, surrealistic, full-color contemplation on language & life. Tremblay will be present at Expozine's launch table & available for signings Saturday & Sunday from 1 pm to 4 pm.
$10 POSTAGE NOT INCLUDED (FOR MAIL ORDER CONTACT RICK TREMBLES THROUGH THIS WEBSITE).
Pictured below: Front cover of "ESTHETIC COMICS: IN OUR BACKYARD."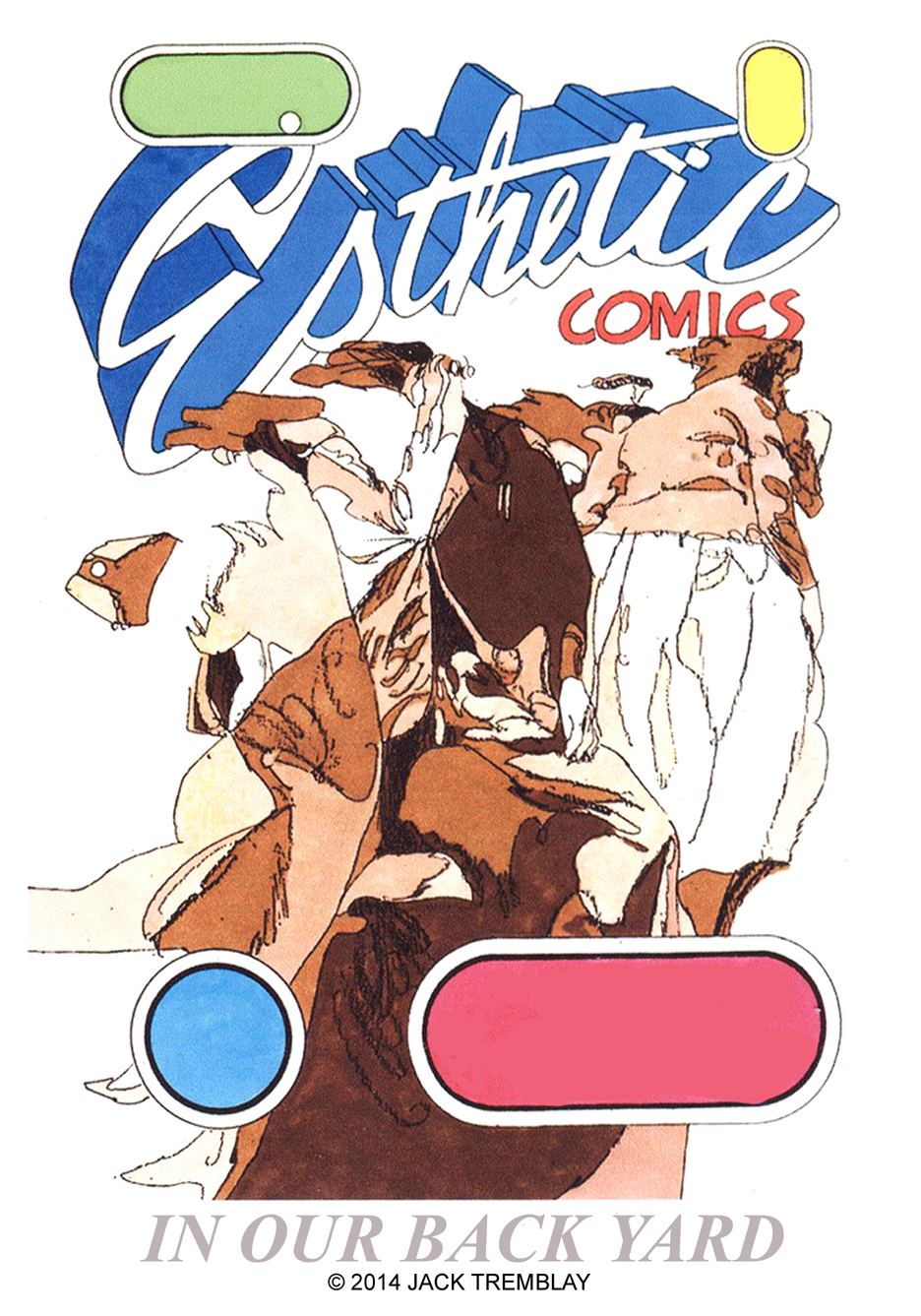 Pictured below: Sample pages from "ESTHETIC COMICS: IN OUR BACKYARD."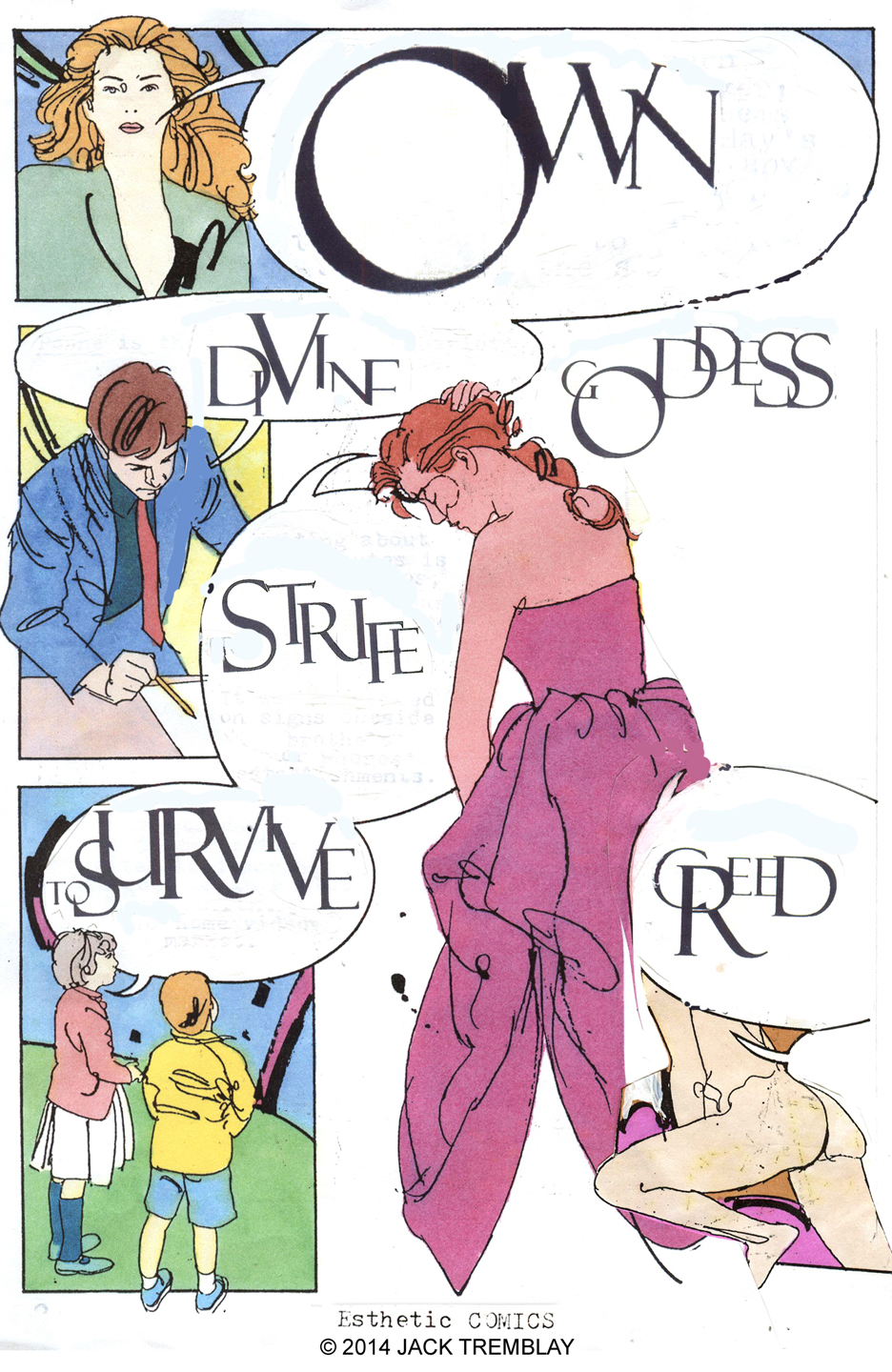 Pictured below: Jack Tremblay's signature character from World War Two; CRASH CARSON.