Home Merch Gallery Archives Devices
Rick Trembles' "Bijoux" series was spawned by a collection of tiny abstract non-representational drawings the artist had a desire to eventually turn into three dimensional sculptures. The first five of these sculptures were presented in a solo show exhibited at Gallerie Monastiraki from February 3 to 28, 2009.
Each of Trembles' structures, five in total built especially for this particular exhibition, melds ornamental elements with the mechanical & biological, all with the intention of eventually creating vignettes on film for every construct employing the various disciplines he's experimented with over the past 30 years; 2-D animation, stop-motion animation, & musical composition, only now in a deliberately abstract manner.
Copies were struck from actual molds of the originals & put on display as part of the concept. In order to help raise funds for the filmmaking process, these duplicates are now available for sale here along with acrylic paintings of the same organisms.
To see a virtual tour of the gallery exhibition click HERE
Contact ricktrembles@hotmail.com for ordering information. For more illustrated behind-the-scenes making-of documentation, & links to various previews & reviews of the show click HERE
CONTACT RICK TREMBLES FOR PRICES
BIJOUX # 1
painting (10 X 12 inches, acrylic on canvas)
sculpture duplicate (approximately 5 to 6 inches tall, white ultracal plaster)
BIJOUX # 2
painting (10 X 12 inches, acrylic on canvas)
sculpture duplicate (approximately 5 to 6 inches tall, white ultracal plaster)
BIJOUX # 3
painting (10 X 12 inches, acrylic on canvas)
sculpture duplicate (approximately 5 to 6 inches tall, white ultracal plaster)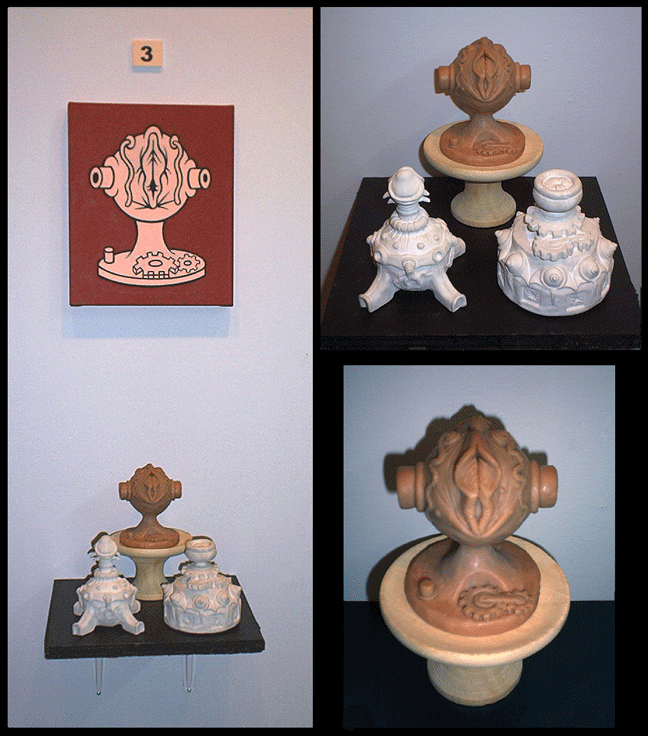 BIJOUX # 4
painting (10 X 12 inches, acrylic on canvas)
sculpture duplicate (approximately 5 to 6 inches tall, white ultracal plaster)
BIJOUX # 5
painting (10 X 12 inches, acrylic on canvas)
sculpture duplicate (approximately 5 to 6 inches tall, white ultracal plaster)
contact rick trembles for ordering info